Antica Roma Live kermesse musicale
THE FIRST SUNDAY OF EVERY MONTH APPOINTMENT WITH LIVE MUSIC WITH THE BEST ARTISTS OF OUR TERRITORY.
Band, soloists, covers or songwriters, TOGETHER in a fantastic path of notes and taste!
#LaPrimaDomenica … because MUSIC is LIFE!
info and reservations at 328.53.62.878
Covered € 3.50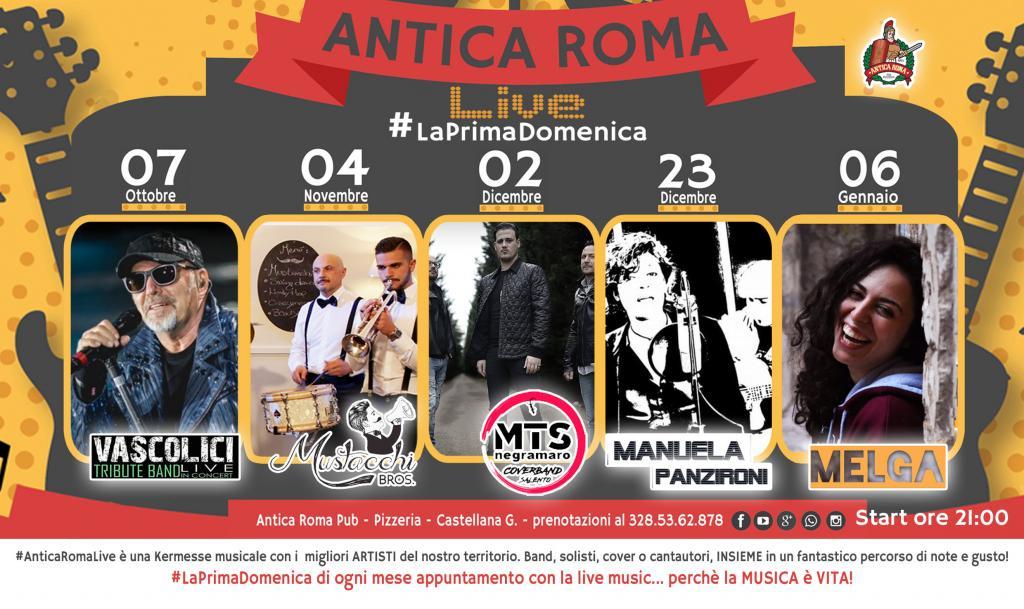 Program – start at 21:00
.
Sunday, October 7th
Vascolici live – Vasco Rossi tribute band
The band transmit their own artistic personality to the show giving great prominence to the unmistakable sounds of the Emilian artist.
.
Sunday 04 November
Mustacchi Bros.
a small marching band able to play jazz, swing and Dixieland standards, without neglecting Italian music classics, revisited and adapted to a combo that includes brass, banjo and percussion. Fun mix of genres, in which the voice "filtered" by the megaphone and the choral interventions of all the musicians make the show, so veined in irony and humor, absolutely enjoyable.
.
Sunday02 December
"MTS NEGRAMARO COVERBAND SALENTO"
and 'the first tribute of Salento group led by Giuliano Sangiorgi. Over 100 LIVE in 2017, the band's first year of activity.
The incredible vocal likeness of the frontman Stefano Carlino (former singer of Amici di Maria De Filippi ed. 2016) and the instrumental explosiveness of the musicians, make the MTS the most faithful tribute in circulation of the Negramaro. The show traces all the greatest hits, which have led the band to be among the most followed and loved artists in Italy.
.
Sunday, December 23rd
Manuela Pizzutilo
"An original project with unpublished sounds that of Manuela Panzironi accompanied by the excellent Michele Paddeu on guitars".